Chances are that if you're an eCommerce Business, fast shipping is essential for your business success. Consumers want the products they like, and they want them now. So, what can you do to make that happen? Say hello to your best friend, LTL (less-than-truckload) shipping that will ease all your transportation worries. Wondering how LTL freight benefits your business, why should you use it, what are the transit times? Don't worry, we've got you covered.
What is LTL Freight?
Simply put, an LTL freight is used to transport goods that do not require a full truckload. It's the easier option for shippers looking to ship anywhere between 150-10,000 pounds of cargo. This means that you only pay for the space that your shipment takes up while the remaining is paid for by others depending on their freight size.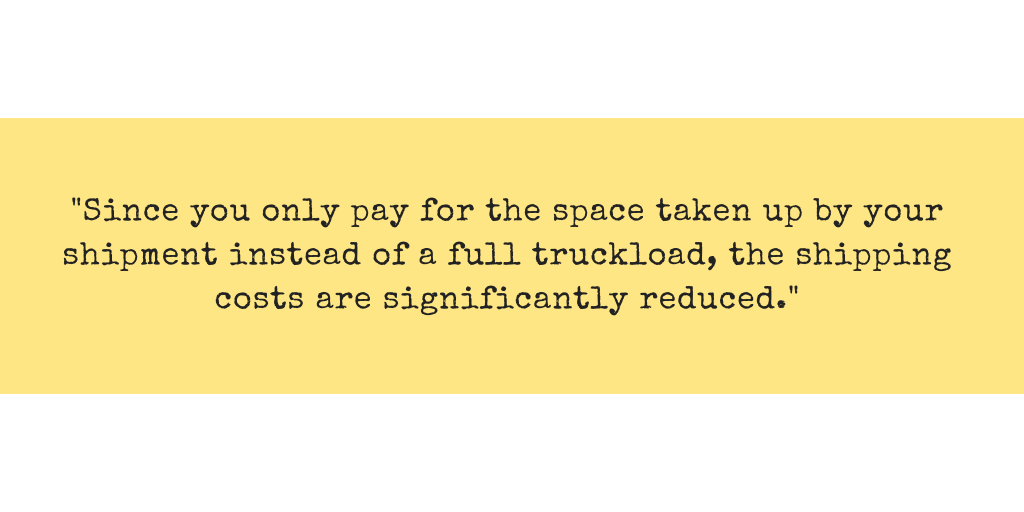 How does LTL Freight benefit your eCommerce Business?
Anyone who's running a business will tell you that freight or shipping costs are one of the highest costs associated with their business, especially for small and medium businesses who're constantly operating in a budget-friendly environment. This is where LTL comes in handy. Some of the advantages of using LTL freight are:
· Lower Costs – Since you only pay for the space taken up by your shipment instead of a full truckload, the shipping costs are significantly reduced. This happens by consolidating your pallets with those of other merchants, traveling in a similar direction.
· Easy Tracking – Similar to standard shipment methods, LTL shipping allows you to track your package at different stages of the delivery thus providing you a detailed estimate of delivery timelines
· Better Security – Instead of being loosely transported with a higher risk of damage or loss, LTL shipments are organized in pallets or crates, making them much safer for transit.
How do you use LTL for your eCommerce Business?
Once you've decided to ship your goods through LTL, there are a few practices you can follow to ensure you reap the benefits. Here are some of them:
· Use a Transport Management System (TMS) – While there can be an initial cost to using a TMS, it proves to be a great tool in the long run. Transport Management Systems help you with business intelligence and other supply chain tools which gives you an eagle's eye view of your shipment timelines and costs by telling you which are the best and the most cost-effective routes.
· Be informed about the shipping rates and legal regulations – As your shipment moves through borders, shipping rates and legal regulations change. Speed limits, traffic regulations and driver rules are affected too. It's best to stay informed about such changes prior to shipment so that you can make better decisions.
· Stay updated and pass on accurate information to your vendors – Carriers and vendors have to spend extra time, money, and effort in an attempt to iron out a poorly packaged shipment. Accurate reporting and proper packaging will not only help save you money and time but also go a long way in fostering great relationships with your vendors.
LTL freight FAQs
There's a lot of information out there but as a business, you'd still have a few burning questions about the value LTL can provide. The following answers might just help.
1. When is LTL the best shipping choice?
When companies don't have a full truckload of shipment, LTL freight is the best option as it allows them to pay only for their space without worrying about additional costs.
2. What are the minimum pallets or crates that qualify for LTL?
LTL usually consists of 1-10 pallets which generally weigh between 150-10,000 pounds.
3. What are the transit times for LTL shipping?
While accurate transit times may differ from one company to another, a general rule of thumb that is followed would be up to 2 business days for interstate routes, up to 5 business days for regional routes and up to 7 business days for international routes. This is of course assuming everything goes smoothly.
4. How are LTL shipping rates determined?
Shipping rates are often a function of total freight volume, fuel required, the class in which the freight is being shipped as well as any other additional services requested such as loading and offloading support.
5. What are the documents your business needs for LTL shipping?
Bill of Lading, Proof of Delivery, commercial invoices and Certificate of Origin should do on most occasions.
How can eShipper help?
Wondering how all of this is tied together? Here's where eShipper comes in. eShipper is the perfect business partner when it comes to cost savings, efficiency, meeting timelines, and other tasks that help you relax and focus on other parts of your business. eShipper's cloud-based platform makes it easy to find other shippers, calculate quotes, and helps you make the best decision. Finding you the best freight price and competitive carriers is our expertise. And all of this, in just a few clicks.
To do or not to do?
Saving costs and finding efficiency are on the agenda of every business, small, medium, or large. For an eCommerce business, LTL freight can become the best cost-saving alternative. Using a third-party logistics company like eShipper that uses technology and innovation to reduce costs and increase productivity, can go a long way in increasing your business success. Click here for a customised quote from eShipper and get started today.